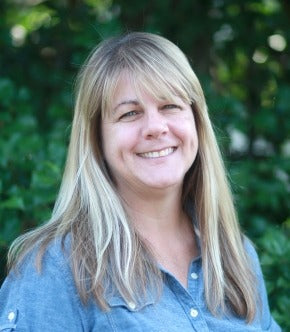 Bethesda Associate Director
Felicia Grandinette
feliciagrandinette@SEEJESUS.NET
Felicia Grandinette completed three years of study in Special Education before starting her family. When she returned to the classroom eighteen years later, the world of education had changed—and so had Felicia. She finished her degree in Adult and Organizational Development, unsure of where the Lord was leading.
As she had done for years, Felicia continued to serve in her church's disability ministry—never dreaming it would lead to her vocation. As she reflects on her journey to Bethesda, Felicia explains, "Now I feel that I am exactly where God has called me to be."
Felicia has led or spoken at youth retreats, women's events, and a wide variety of disability ministry trainings. She treasures each opportunity to speak on behalf of those with special needs. "Knowing we are a part of bringing people to God who have been forgotten, marginalized, and shunned is surely a blessing," she reflects. Felicia and her husband Brian have five children, four grandchildren, and live in Perkasie, PA, where they are known for their bountiful summer garden and luminous winter Christmas lights.
Donate to Bethesda General Fund
More from Felicia
The Soul is Not Disabled - An Interview with Jill Miller and Felicia Grandinette

This is the third episode of our Advent series called, "Joy of Every Longing Heart." Liz Voboril and Jon H. interview Jill Miller and Felicia Grandinette about their experience with discipling people with special needs.

Read More