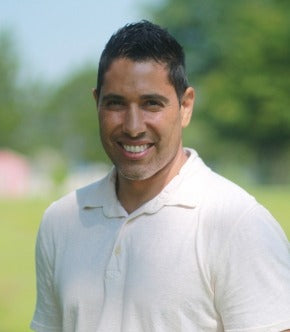 Development officer and trainer
Keith Grant
keithgrant@SEEJESUS.NET
Keith Grant used to spend his lunch break devouring A Praying Life in the parking lot of Home Depot. Keith's enthusiasm for the book quickly spilled over from that parking lot and into the church he pastored in the form of an A Praying Life Seminar. Still hungry for more of Jesus, Keith took a deeper dive into Person of Jesus, A Loving Life, and The Love Course.
Keith—who has served as a pastor, a spokesperson, an actor, and a corporate trainer—has discovered a happy marriage of his teaching gifts and his passion for Jesus in becoming an A Praying Life trainer. "I get to lead people to the feet of Christ and watch their eyes light up as they see him in new ways." In fact, Keith now helps to coordinate the A Praying Life work in West Coast/East Asia.
Where has God been at work in Keith's life lately? Keith reflects, "God is turning me into a lover of people by giving me three ladies who remind me all the time that I'm a servant leader!" Those three ladies are his wife, Melissa, and their two daughters Arden (8) and Adalind (3). Keith and his family live in West Chester, PA, where Keith also serves seeJesus as a Development Officer.
More from Keith
Becoming Human Again

This is the fourth and final episode in a podcast series called "Hope and Direction in a Time of Crisis." These episodes have been excerpted from free webinars hosted by Paul Miller and conversation partners Jon Hori, Liz Voboril and Keith Grant.

Listen In

Hunting for Resurrection Webinar

What does moving forward with hope look like when a crisis doesn't "end" and resuming "normal" doesn't seem possible? Paul and his colleagues Jon Hori, Liz Voboril, and Keith Grant discuss how to hunt for resurrections in everyday life. Hone your resurrection hunting skills by tuning into the conversation.

Watch Here

Giving Well Webinar

Learn how to make the most of year-end tax benefits and cultivate a spirit of generosity in this webinar hosted by our own Keith Grant along with Compass Ion, the financial advisors we trust to manage our own investments.⁣

Watch Here